Music Box, Ear-Catching & Lovely Gift
Music Box; Ear-Catching & Lovely Gift
How would you react if you received a music box as a gift? Of course, anyone who sees a music box will involuntarily go to it and start to turn its handle and crank, and will listen carefully to its beautiful and lovely melody. We will even place it on different surfaces and start to spin the handle again to find out the different volume of the music box sound on stone, glass or wooden surfaces.
By turning the crank of the music box at low or high speed, we change the melody speed and try to play the melody with the original speed again. Doing all these things with a small music box is very enjoyable for all of us and it create a kind of childish enthusiasm in us that may come from the lullaby of our crib bed bell in our childhood. An ear-catching melody that magically takes us to the world of dreams and fantasy. A familiar and soothing sound and melody that draws us to this interesting instrument to hear its melody again.
This wonderful and amazing device has a very old history. This interesting device has had a long journey through the history from its origin and evolution, its prevalence and development, and finally its fade-away over the years and its return to the age of new technologies. In this article we will tell you a summary of this amazing device's journey.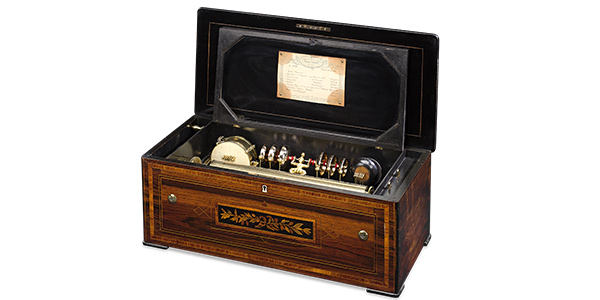 History of the Music Box

It is believed that the invention of music box or musical box dates back to about 1770 in Switzerland. This device was basically designed to be calming, relaxing and graceful, or to help for having a better sleep. The prototypes of this product were small enough to fit in a pocket, but as time went on and by increasing the demand and popularity of this device, it was produced in larger sizes.
The Symphonium Company was the first manufacture of disc-playing music boxes. Later two founders of this company named Gustave Brachhausen and Paul Riessner left Symphonium to set up a new company named Polyphone in order to compete with the third partner in their own previous company.
The Symphonium Company was notable due to the diversity of models, types and also styles they produced and the other companies couldn't compete with them because of this vast diversity. They even were the first to place and use the electric motors inside music box in 1900.
Beautiful models that were placed inside a cube-shaped and rectangular box were so popular in that time. A typical large music box had a 96-toothed steel comb that was pulled into pins or drums on a brass disc or cylinder, playing a beautiful melody.
Finally, in 1890, larger metal discs replaced the previous models and by 1900, this music box model had become more popular than the cylindrical model. Finally music boxes were replaced by a newer and better competitor named "gramophone" which was another great invention by Thomas Edison in 1877.
The music box was the most popular instrument as the house musical device from 1810 to the early twentieth century until the piano and phonograph or gramophone replaced this interesting instrument and made it obsolete.

How Does a Music Box Work?
A music box is a mechanical instrument which its melody is played by the impact of drums and jagged metal points on a disc or cylinder with a metal comb , which requires turning the crank or rotating the handle attached to the cylinder or disk by hand. As a result of the metal points on the cylinder or disc colliding with the comb, vibration occurs in the teeth and produces sound that the rotation itself occurs due to a function similar to the clockworks. The distances between the metal points and drums on the cylinder or disc and their location, as well as the height of each on the disc or cylinder, actually create various melodies.

Successful return

Today, with the increasing advancement of technology around the world, many changes have taken place in all fields of art. The souvenir of technology in the new age is creativity and ease of doing everything for everyone, which has developed the same creativity and ease of creating works of art. Painting, cinema, sculpture or music, etc.
But without a doubt, going back to the past and using the devices that were innovative and creative at that time is enjoyable for everyone, even for a few minutes. Devices that, while simple to build and have no engineering and technical complexities, have retained their fans in this crowded and complex world after many years. Just like old and interesting inventions like gramophone or music box.
In today's digital and advanced world, the music box is still popular among us. In all ages, from children to middle-aged and old people enjoy turning and turning the crank and hearing the pleasant sound of this magical box. These days, music boxes are also produced with new melodies. Melodies taken from the music of popular and famous movies such as the soundtrack of the movie Godfather or Love Story or the music of popular old and new songs that are very memorable and pleasant that this innovation has made this interesting device more popular again among all people.

An Ear-Catching & Lovely Gift

The re-popularity of the music box has made this device one of the best gift options. So that by sending this interesting gift, you can create a memorable surprise for your friends and loved ones on all occasions. Putting a music box with a Love Story melody or with a Romeo and Juliet melody next to a flower box full of red roses and chocolates, can be a great Valentine's Day gift for your sweetheart. A memorable way to express your feelings to someone you love so much. You can even send a music box with the happy birthday melody with a delicious cake or a beautiful and pleasant gift such as your loved ones favorite perfume in order to surprise them on their birthday.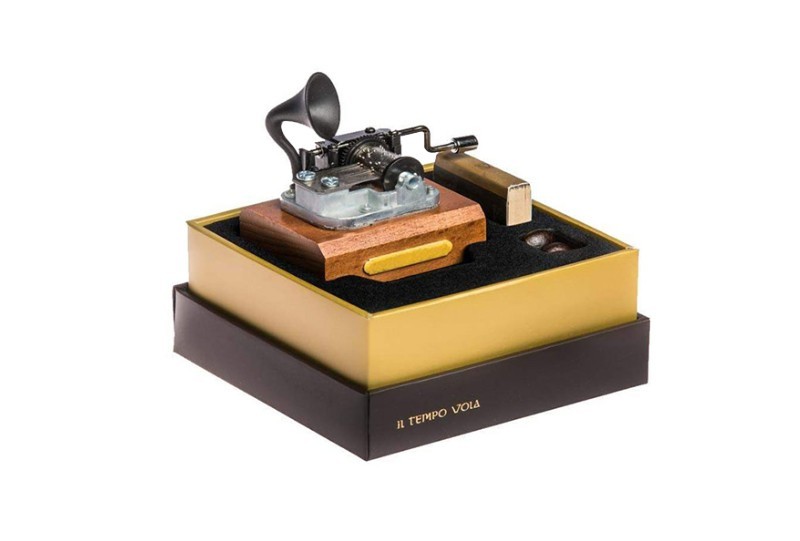 Popular Forever!
Beautiful music boxes with melodious and pleasant sounds are memorable and lovely gifts from the past for us and for the people in future. A beautiful and lasting memento that has survived from the technology forces and has escaped from the changes of modern world from old yesterdays to the unseen tomorrows…


Leave a Comment
Leave a Reply
Please
login
to post a comment.