The Meanings of Rose Colors
The Meanings of Rose Colors
Roses are one of the most beautiful flowers which due to their lovely shape and different colors, have always been one of the best gifts to send in various occasions. From birthday greetings to Mother's Day or Father's Day congratulations, wedding congrats, Valentine's Day, Christmas or even to say "sorry for your loss" in funerals, sending roses is one of the first ideas that comes to our minds. Roses have vast color range. From the romantic red and energetic yellow, to violet and dark blue and even black! Actually just like a rainbow, roses can have different colors. Even we have rainbow roses with the gorgeous rainbow colors. In this article we will tell you the meaning of each color of roses.
Red Rose Means: I Love U
Nothing better than a box or a bouquet full of red roses can say "I love you" We all learned from the romantic novels and romantic movies that the red roses represent endless love. Love has deep meaning and it is layered. Just like roses. So red roses are the symbol of endless, deep and layered love.
When Should We Present Red Roses?
First dates: the first days of getting to know each other and first dates with the passionate romantic feelings in the lover's heart. If you want to have a great impact on your girlfriend or boyfriend in first dates, presenting a single red rose or a bouquet of lovely red roses will be a catchy move…
Romantic Surprises: you don't need to wait until the next occasion. You can buy or send red roses for your sweetheart without any occasions. Sending a flower box full of red roses to your lover's office, is a wonderful idea and a delightful surprise for your loved one!
Wedding anniversary: wedding anniversary has always been one of the most important occasions for everyone. A memorable day to cherish the beginning an eternal promise and to hope that this promise and beginning will last forever. A true romantic celebration! It doesn't matter that you are planning the first anniversary or the tenth, a beautiful gift hidden among red roses in a box will be a wonderful and also memorable surprise for your dear spouse.
Valentine's Day: This occasion is a day field with chocolates, kisses, red roses and of course "I Love U" sentence. As the most romantic event of the year it's no wonder that the red roses face the most demands. By giving or sending a lovely box full of red roses with hidden tasty chocolates inside this romantic box, you will actually create a true romantic and memorable surprise for your lover.

Pink Rose Means: I Care About You & Thank You!
The pink color has a great color shade. From the flamingo, baby and lavender light pinks to taffy and magenta, sharper and darker pinks. The pink roses are meaningful just like their red kind. You can deliver a message made of affection and sentiment to the one you care a lot by presenting pink roses. Someone like your parents, siblings, friends and relatives. Also pink roses are great for showing your appreciation and gratitude to someone who has done a favor for you.
When Should We Present Pink Roses?
Birthday: If the birthday of a friend is ahead or you want to congratulate your family members or relatives in their birthdays, the pink roses are the best. By sending a bouquet or a beautiful box of sharp pink roses you can express you love and affection to them in a memorable pinky way!
Visiting a Sick Person: The light pink with its relaxing and calm tone, can create a feeling made of peace and healing in the sick person. If a friend or a dear person has become ill recently, you can give these positive feelings by sending or giving a bouquet or a box of light pink roses.
Mother's Day or Father's Day: In these special occasions you can show your gratitude and appreciation and of course Love to your dear mom or your loving dad for a lifetime love, support and hard works they did for raising you by sending a bucket or bouquet of pink roses. With this lovely action you will show them that they are the most precious, valuable and the dearest persons in your life and you will never forget them.
Gratitude & Appreciation: if someone has done a favor to you recently and you want to show this good person your gratitude and appreciation, sending a box or bouquet of pink roses is definitely a great and wonderful idea to say "Thank you so much"
Yellow Rose Means: Congratulations My friend!
Yellow color is full of energy and heat that creates a feeling made of joy and happiness in everyone. By facing a bouquet full of bright yellow roses, a smile will appear in our face unconsciously. Yellow roses are great for saying "congratulations" in unexpected happenings. A truly joyous greeting for everyone celebrating a great achievement. Also the yellow roses are the symbol of friendship and are great choices for congratulating to your friends.
When Should We Present Yellow Roses?
Graduation: From getting Diploma of high school to the highest educational degrees which are taken by hard-working, the best and great idea to congratulate this important achievement is a bouquet of yellow roses.
Job Promotions: Sending a lovely box of yellow roses for congratulating your dear friend's promotion that she or he tried so hard to achieve, is a wonderful idea for encouraging and cheering this dear friend. These lovely yellow roses with their energetic color will show that you are very happy for your dear friend to reach this great place in his or her career.
New Baby: there is no joy and happiness above the birth of a baby in this world. A small lovely creature that will bring so much joy and love to this world by a pure and innocent energy. Express your rejoicing feeling for this great news with a lovely box full of yellow roses for saying "congratulations on your new arrival!"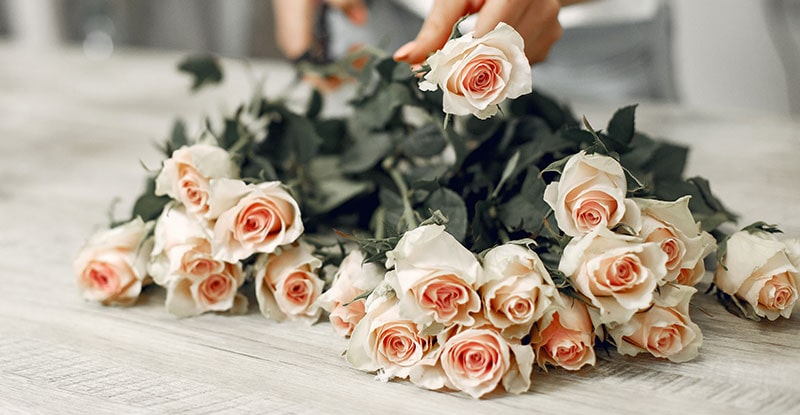 White Rose Means: Purity & Unifying
White roses are the symbol of purity, innocence and perfection. The white color represents peace and friendship, cleanliness, freshness and simplicity. A new beginning and a fresh start. White is a lovely color in nature, the color of snow, the traveler clouds, and the spring blossoms. White color is a mixture and combination of all colors in the color spectrum.
When Should We Present White Roses?
Weddings & Engagements: For celebrating happy and joyful events like weddings and engagements, the white roses are the best flowers for decorating these ceremonies. Passing from a level and entering to a new one… A new beginning to a lifetime unity and commitment. By sending and presenting a basket or bucket of beautiful white roses with candle you can wish bride and groom all the best.
Memorials & Funerals: Sending white roses in these gatherings is a great idea to express condolence and sympathy. The peaceful color of white roses can a little calm the deceased's family from their huge grief. A simple way to say "sorry for your loss"

Eternal & Preserved Rose Means: Everlasting Love!
The preserved and eternal rose is one of the best gifts that you can offer to anyone. A wonderful flower that overcomes to the passage of time and keeps its freshness until years just like a freshly picked rose. This immortal rose can be a symbol of an everlasting love that won't change during passage of time. With luxury and stylish different packaging like square shaped showcases or beauty & the beast oval shape, this amazing flower is one of the best gifts you can offer to you loved ones in all occasions to be a lovely memento of you in years. Birthday, Valentine's Day, wedding anniversary, Christmas and Nowruz… it doesn't matter which one is coming next.By sending eternal roses with various models and shapes like colorful eternal rose or rainbow eternal rose, golden eternal rose, red premium eternal rose and eternal rose & candle set, you can congratulate all occasions to everyone with this amazing immortal beauty.

When Should We Present Eternal Roses?
Birthdays: Sending a gift box which holds a fresh and immortal secret inside, can be a wonderful surprise for the one you love so much and you want to give this special person a special gift in a special occasion. By opening and seeing the lovely eternal rose inside this mysterious gift box, you will offer lots of joy and happiness to your friends and beloveds.
Valentine's Day: The Valentine's Day, is a very special and romantic day in the year for lovers all around the world. A package containing an eternal red rose and a lovely candle beside it, is a romantic and wonderful gift and the symbol of your eternal and endless love for your lover in the most romantic event of the year.
Dating Anniversary: Dating anniversary is actually the most important occasion in a relationship. The anniversary of a memorable and lovely beginning with a special person. A very dear person that is very important and valuable for you. Sending a colorful eternal rose or a rainbow eternal rose will be a pleasant and memorable gift for your sweetheart. With colorful petals, you will actually remind your beloved the great memories you two made during this relationship and also with the immortal feature of this extraordinary beautiful rose, you will remind your lover that your romantic feelings and love will last forever. Just like this amazing and joyful rainbow rose…
By sending lovely roses in different colors and models, you will remind your loved one how much you love and care about them despite the long distances between you and them.
Leave a Comment
Leave a Reply
Please
login
to post a comment.