Merci chocolate with 250gr weight, produced by "Storck" brand made in Germany. Including seven different flavors like dark chocolate, hazelnut, almond, milk & coffee, cream mousse, milk chocolate and Marzipan, with beautiful and chic package. Suitable for all occasions such as Valentine's Day & Nowruz.
Read more
Show less
Sending chocolate to your family and friends when you are not able to be with them on special occasions, is a good idea to congratulate, thank or express love to them from far distances. Actually sending tasty and delicious chocolates with lovely packages is a wonderful way to congratulate many occasions.
Your dear friend's birthday, mother's day or father's day, job promotion or graduation, new home, men's day or women's day, Nowruz and Yalda night, Valentine's Day or Christmas… In fact chocolate is the best gift to say "Congratulations" to everyone in all events and occasions.
One of the best chocolates that SurprisePlaza offers you to send is Merci chocolate. This very stylish and classic gift chocolate is a very popular brand among chocolate lovers which this popularity has so many reasons.
Merci chocolate contains seven different flavors. Extraordinary flavors such as chocolate with hazelnut cream, chocolate with milk and coffee cream, milk chocolate, chocolate with almond and hazelnut cream, chocolate with marzipan or sweet almond paste, chocolate with dark chocolate cream and chocolate with dark mousse are the special flavors waiting to sweeten your dear recipient's moments.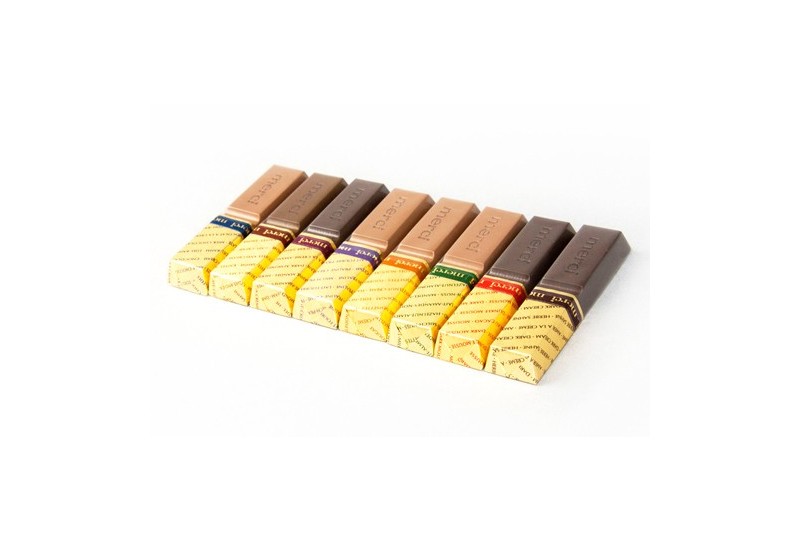 The unique shape of chocolates inside the package plus the very special taste and also excellent quality and its famous and old name are the reasons why Merci chocolate is the first choice of every chocolate lover as an excellent and high-class gift chocolate.
This delicious chocolate is available in 250 grams weight and it is a product of the Storck brand made in Germany.
| | |
| --- | --- |
| 2346kj/ 563 kcal | Energy |
| 36.1 gr | fat |
| 19.9 gr | saturated fat |
| 49.9 gr | Carbohydrate |
| 48.0 gr | Sugar |
| gr 7.0 | Protein |
| 0.17 gr | salt |
Read more
Show less